THE RISE OF TILLY "GARY" GARRETT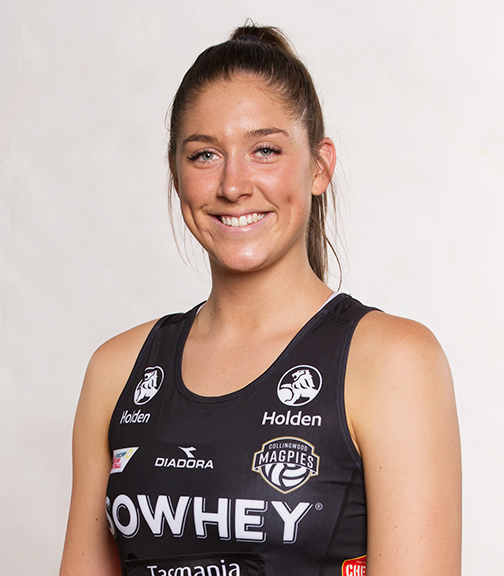 You may have heard of Matilda Garrett.
To some, it may look as if she's come out of nowhere.
But for those of you that don't know her that well, her rise from training partner to Magpies netballer is no fluke.
She's a quiet soul, but don't be fooled. She works hard; she's incredibly humble, and at only 19-years-of-age, she has a big career ahead of her.
Us defenders have to stick together, and I couldn't be more excited to work with Tilly in 2018 and beyond.
Funnily enough, she has the same netball coach that I did when I was 19. It's none other than Collingwood's Head Coach, Kristy Keppich-Birrell (KKB).
When I asked KKB about the similarities between the two of us at that age, she said we're both 'crouching tigers'.
Kristy didn't forget to mention that Tilly is a much quieter version. (Don't worry, I'll work on this!)
I sat down with Tilly last week at the Holden Centre to talk all things netball.
Sharni Layton (SL): Tilly, tell us how you became involved with netball?
Matilda Garrett (MG): Well, I went to Rowville Secondary College where Kristy Keppich-Birrell and Wendy Jacobsen coached me from year seven. The program is really, really good. I learnt so much from my coaches and from my teammates at such a young age.
In the netball program, they pair younger and older age groups together. Therefore, I was training with a range of different netballers, whether that be age or skill level.
Training with the older girls was a real challenge, as they were stronger and fitter than me. But I equally enjoyed training with the younger girls, as I got the chance to work with and help them develop.
SL: From there, you took a real step in your pursue to play netball professionally. 
MG: I was bottom age in the 19/U Victorian team, and from there, I made the 20/U Australian squad. This team was announced in 2016, and all players selected were eligible for the 21/U World Youth Cup*, which was held in Barbados earlier this year.
*SL: FYI, World Youth Cup is a huge honour for netballers. Like any major netball tournament, it comes around every four years. For the selected members of this squad, many have gone on to represent teams in the Suncorp Super Netball League, as well as the Australian Diamonds. Not only that, but it is a huge honour to represent your country at any level. 
MG: Around the time that the new national league was announced, I was at a team camp with the Australian squad at the AIS in Canberra. We were in a mini tournament with New Zealand and England, and many of the coaches from around the league were there watching.
At the end of the tournament, Kristy rang me and offered me a position as a training partner with the newly created Collingwood team. I wasn't expecting it at all. It was a surreal moment, and one that I don't think I'll ever forget about.
(As Tilly recalls joining Collingwood, she still seems shocked. She's been at the club for a year now, but you can see how much it means to her. Getting picked up by your first team is arguably the most exciting moment in any netballer's journey.)
SL: Netballers around the country are going through trials at the moment, knowing selectors are watching on. How did you deal with that pressure during the 21/U camp?
MG: To be honest Sharnz, I don't even know how I made the squad in the first place. I was just trying my hardest out there doing everything I could. I didn't even notice that the coaches were watching.
I also hadn't really watched netball before and this world was so new to me, so I couldn't tell you who many of the coaches were! I saw Kristy and Kate Upton, which was great, because I instantly felt more comfortable seeing two familiar faces. But by not putting that pressure on myself probably helped and kept me focused on what I had to do.
SL: Going back to your 2017 season, what was the highlight of being a Magpie?
MG: I learnt so much about myself as a person and as a player this year at Collingwood.
It was challenging, but I absolutely loved it. This was my first serious year of strength and conditioning in the gym. When I first started, I don't think I could do one push up, but now I can do a few!
I was feeling pretty good about myself, but then I realised I'll be squatting my PB and then look over to my left and see you and Braz squatting a good 30kg more than me! (I assure her that I wasn't pumping out those squats at the age of 19!) 
In saying that, I know with each session, and with each preseason, I'll get there! I love feeling stronger and I've felt it really start to translate into my game on the court, which is cool to experience as an athlete. I really hope to be as strong as you one day. (Okay, Tilly didn't say that last sentence, but I added it in anyway!)
SL: This year, you played for the Tassie Magpies and in the Australian World Youth Cup Team, which is a huge achievement. Were you expecting the promotion to the Magpies' list in 2018?
MG: Not at all! Kristy rang me up. I was stunned. Seriously! I was trying to talk without her realising that I was crying. But in truth, I was a mess. I was sobbing and so excited.
This is how it went down:
KRISTY: "Tilly I've been really happy with your performances this year and I would really like to offer you a position in the Magpies' final roster of 10."
TILLY: "Kristy! (sob) Thank (sob) you (sob) so much!"
Silence
TILLY "But are you serious?!"
KRISTY: "No, Tilly I'm joking."
But she wasn't joking. I then apologised for crying. And sobbing.
SL: Your now a member of our senior squad…How are you feeling about 2018?
MG: I'm very nervous about preseason starting. You girls are so fit and strong, which is a little intimidating to be honest!
I just want to take as much information from you all as possible. And improve my netball. I really, really want to become the best netballer I can be.
Well Tilly, if you keep going on at this rate, you could be one of the best netballers in the country.
Magpie fans, trust me when I tell you this, we are lucky to have this player on our team.
Keep an eye on this girl. She's going places.