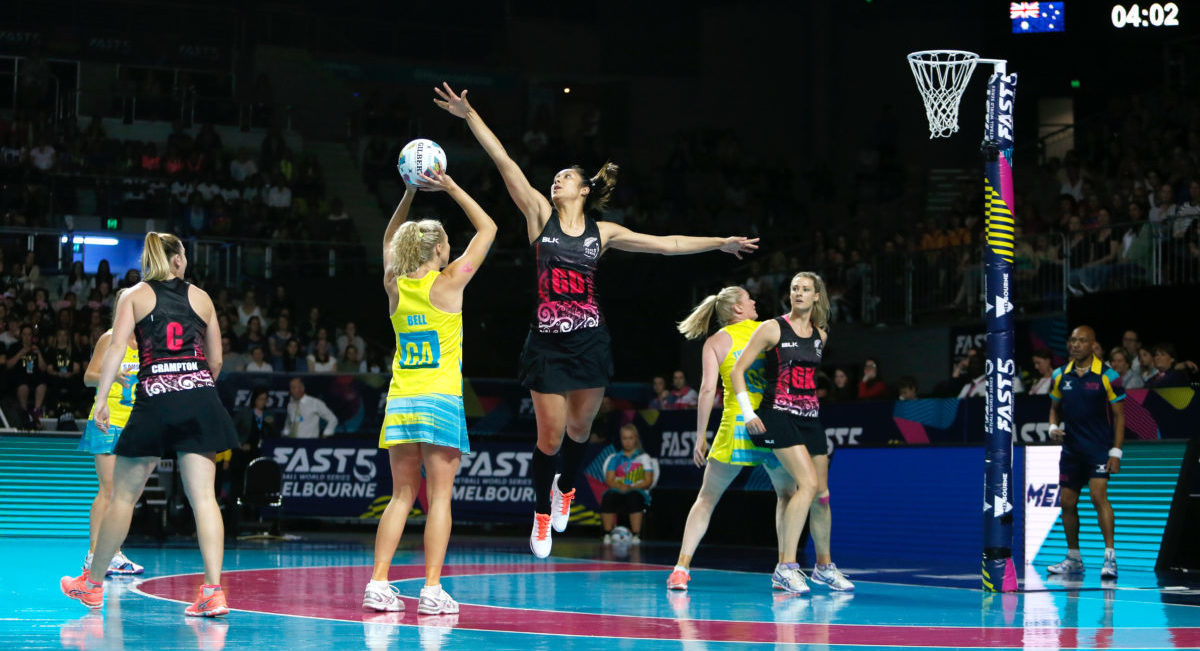 People often ask me about Fast5 Netball.
And after seven years of competition, I'm still not quite sure how to explain it.
So, I've let my thoughts run wild, and given you my take on the upcoming Fast5 Netball World Series.
First and foremost, the first thing I tell any newcomer is to expect the unexpected.
Fast5 is an exciting, bright and entertaining spectacle, where you can watch elite athletes at their best. Seriously, throw your expectations of netball out the window.
You can talk back to umpires, sledge the other team and…no, I'm just kidding.
But Fast5 is something new, something fresh and something that is really exciting for the sport.
Now, here's where I'm going to give you insight into my, well, vivid imagination.
I want you to close your eyes and imagine a giant disco party with goal posts that light up, colourful courts, big signs and lots of lights.
There's music pumping, MC's entertaining and the best outfits going around (seriously, if you don't get dressed up – you will be the minority!)
I mustn't forget the real reason why everyone is there.
I'm talking about the main show, on centre stage. The Fast5 contest.
It's netball's best effort at a hens weekend where everyone is free to let their hair down, dance and shout like it's the summer of 1969 (Thank you Bryan Adams)*
*Kids checking this song on Spotify or Youtube, you can thank me later. Your life will never be the same.
So in a nutshell, what is Fast5 netball?
Six minute quarters (every netballers dream)
Five players on a court (who really needs a WA/WD anyway?)
Multiple scoring zones for 1, 2 and 3 points (AKA the Erin Bell special)
Rotating substitutes (go hard or go home)
Power play – teams pick one quarter where all points are scored are doubled
Centre pass – always given to the team who didn't score, because we are all friends and everything is fair in netball
I suggested that the only rule in Fast5 should be that there are no rules. But that was quickly rejected. All netball rules remain the same!
I'm sure the non-contact rule will come into play one day. (Well, a defender can dream!)
The tactics are also different. You will notice the goalers wanting to shoot closer to the circle edge rather than the traditional spot under the post. Yes, that's right ladies and gentlemen. The shooters are the risk takers in this game!
And as the defender, you want to try and force your shooter under the post, which is a completely different approach and mindset to how we usually play.
That brings me to one of the biggest differences of all. In Fast5, the defenders have to bring the ball up the court in attacking play.
So, what am I most looking forward to this weekend?
Well, I'm excited see some high-flying interceptions from my good friend and teammate, Ash Brazill. In my opinion, it's one of the best sights in netball.
I can't wait to see the Malawi dance at the end of their games. That's one of the best moments in netball.
I'm also looking forward to seeing Gretel Tippett get back into her basketball groove, shooting three pointers and all, and I wouldn't mind if New Zealand didn't claim the Fast5 trophy when all is said and done (did I just say that out loud?)
In all seriousness, it won't be the same without seeing Maria Tutaia out on court. She has been the overwhelming choice for Fast5 MVP over its short history.
But that leaves an opportunity open for another player to step up and shine on the big stage. I just don't know if anyone can rock that sleeve the way that Maria does.
While the teams will be in control of who takes home the Fast5 title, clearly I will be judging how great people's outfits are. Let's make this a Fast5 to remember!
GO FAST5 DIAMONDS!