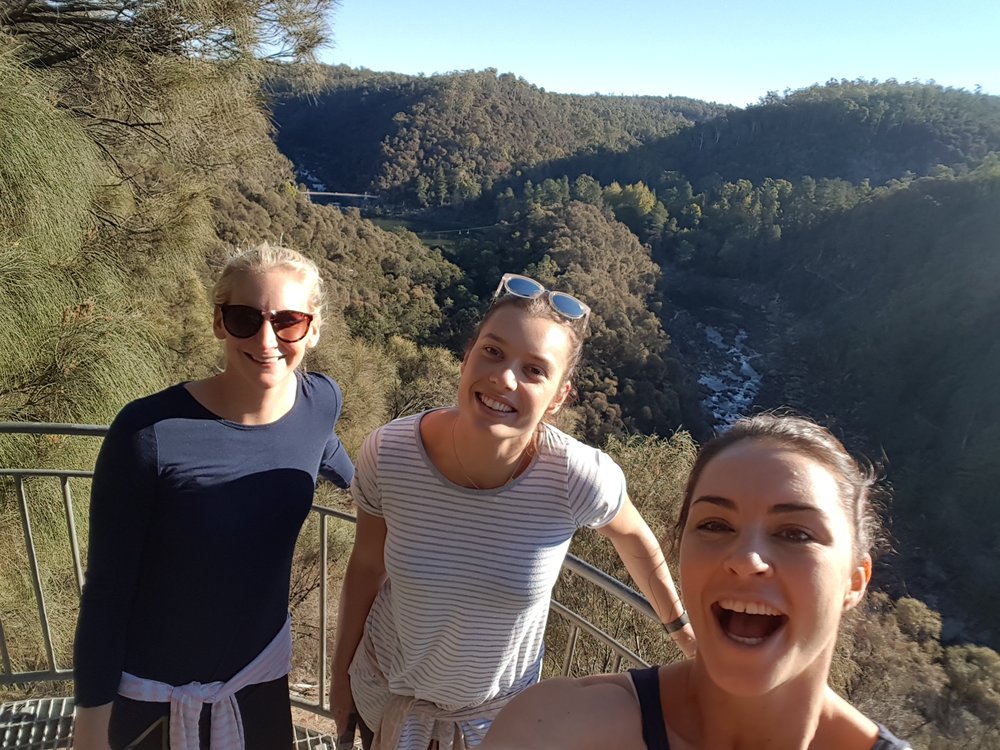 April, Micaela and I getting back to nature and exploring Cataract Gorge
It's always exciting being part of something for the first time, and on the weekend we were lucky enough to do just that, when Collingwood Magpies Netball played our first game at our new home away from home. Tasmania.
The win was definitely the highlight for the weekend, however equally as exciting was playing our first home game at Launceston's Silverdome, and getting out into the community.
Rather than flying down the day before the game, which is what we usually do, we packed our bags early and flew into Launceston first thing Thursday morning.
We spent the day at St. Patrick's coaching kids from all over Tas. With rotations of skilled-based sessions for goalies, midcourt and defenders, Shae Brown and I also shared our journey on how we got to where we are today, the challenges we've overcome and the mindset and attitude needed to get there and stay here.
I think Shae and I actually learnt more about each other and how similar our journeys have been. Replace my love for horses with tennis, my height issues being tall with short, getting picked up by the Melbourne Kestrels at age 16, moving to AIS (Australian Institute of Sport) and living away from Melbourne for nine years and just moving home – we pretty much are the same person! We just hope the kids got as much out of it as we did!
But in all seriousness, the contact with these girls (and one boy, Jack. What a brave boy he was!) is so important so they can see although we are elite athletes – we are just normal humans too.
These lessons learnt through sport translate to all areas of life. Although there have been a few stars come from the great southern heartland, the likes of Margaret Caldow (27 test caps from 1963-'79 and still current Diamonds Assistant Coach) and Natasha Chokjlat (29 caps from 2003-'09) I am CERTAIN there are many more that just haven't had the opportunity, pathways or even belief that they can get there – and that is what we are there for. Being with the Launceston juniors reminded me of my own journey.
I know as a junior I wasn't completely focused on netball and therefore wasn't reaching my potential. I specifically remember being down at Chelsea Netball Courts, Victoria and having the Melbourne Kestrels run a clinic – and that was enough for me to put more energy and focus into sport.
It gave me a connection and belief that I wanted to do that too. A few other clinics along the way continued my passion and drive, but it wasn't until I watched the Australian Diamonds for the first time as a teenager that I remember the feeling of how much I would love to wear the green and gold one day.
Although still unknown how it was going to be possible with close to a million netballers in the country – the dream had been ignited. The experience of being at the game set a fire in my belly without me realising at the time. I can't explain why, but it's just so different to watching it on TV.  It makes it real.
Being part of the game in Launceston made me think that's what I hope we can do for all women in Tasmania. Ignite your passions, your dreams. Just as you gave us love and humility from the moment we stepped off the plane. We felt the passion and support from the moment we walked on court!
What a great way to start a relationship, and to think it's only the beginning. However I have a feeling this honeymoon period will last.
As for the team, well we have kicked into the second half of the season strong, who knew all the Collingwood Magpies Netball needed was a little bit of love from the Easter Bunny and time in nature (Tasmania) to get us into our groove!
As for this week, it's still all on the line as we come up against #2 ranked Sunshine Coast Lightningwho will be fired up after their loss to Vixen's last weekend. DON'T MISS IT, it will be an absolute cracker!!
The Suncorp Super Netball has definitely lived up to it's tag line this year coming into the last four rounds. It literally was "All on the Line" last week as the Firebirds challenged our fourth spot on the ladder, and will continue to be as every team will challenge us in the last four rounds to come!
Grab your Saturday Night disco vibes and join us at 8:45pm Hisense Arena #GoPies
What I LOVED in Launceston:
M&B Coffee
Amelia Coffee
Cataract Restaurant – THE BEST
Burger and Soul (best post game meal)
Cataract Gorge
Farmers Markets