AS A HOMEGROWN VICTORIAN, I NEVER THOUGHT THESE WORDS WOULD COME OUT MY OF MOUTH. AFTER LIVING IN SYDNEY FOR THE LAST THREE YEARS, I AM OFFICIALLY AN NRL CONVERT.
Growing up, the only sport that existed for me on the main stage was AFL. I loved the fact that when I flicked open the Herald Sun I would need to be 20 pages deep before I got to the next sport (and let's face it, I wasn't a paper reading kind of kid). In Melbourne, AFL is like a religion and I loved it – I literally did not know that NRL existed until my late teens!
When I rocked up to Sydney in 2014 (where the religion is NRL) – I was unsure what to do! Could I have two religions?! My beliefs were being questioned and I had a major dilemma (also known as a first world problem). Could I like this sport of the North?
Once I'd moved the only question outside of netball was "now you're in NSW, which NRL team will you support?" It wasn't a question about whether to follow the sport or not. If I wanted to stay in Sydney I had to have a team, otherwise I risked being deported back to Victoria.
I HAD 3 OPTIONS.
1. Team:  Wests Tigers Reason: Living in Balmain, it was a viable option and I would make more friends in my direct community.
2. Team: Canterbury Bulldogs Reason: The team that won the year I was born (1988). They also have the only woman CEO in the NRL in 15 years and had previously been CEO of Netball NZ. I could feel a fondness brewing, however it wasn't my strongest pull to a team.
3.  Team: Melbourne Storm Reason:  Being my hometown it was my only real connection with a team. It also wasn't viable to pick a team in NSW without someone hating me; it was my safest bet for survival.
THE PASSION WAS REAL, AND SO MY LOVE FOR THE MELBOURNE STORM BEGAN.
It's still early days and realistically we're still in the honeymoon period of our relationship but the game excites me. I have the rules more down pat, but I'm still learning the tactics – the ins and outs and the why's.
As an athlete the thought of constantly being beaten down would give me the irrits! It gives me so much respect for the patience and strategy this game has.
How the boys keep their cool as someone drives their body or head into the ground astounds me (especially with the extra testosterone and adrenaline pumping through their veins)! I think, actually I know, if I played League – I would be in the sin bin for the majority of the game!
I appreciate the importance of knowing and playing your role in the team and respect how quickly the player's transition from attack into defence. In last Thursday's game, I love that Suliasi Vunivali (who nearly scored a try), had to sprint his ass back to the other end of the ground to get in line and rally his troops for the next battle after a turnover.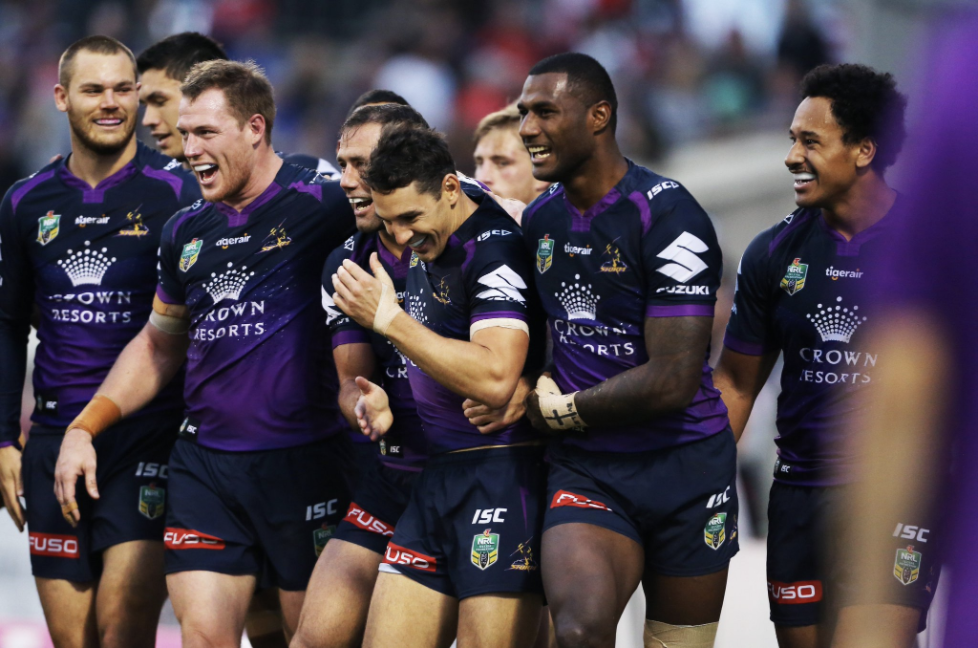 The fact that it is so hard to score gets me out of my seat yelling and screaming in excitement and anticipation every time a player even comes close to sliding across the try line!
Also I can't believe the pressure on decision-making, especially within the 20 metre zone, on whether to pass or head for that try line – I believe that decision is more crucial than any other sport. There is always someone 3 steps away ready to take your head off no matter which decision you make and there is so much pressure because of the limited opportunities in an 80-minute game.
To see Billy Slater come onto the ground after a full year off was incredible. As an athlete, it does not matter how much training you do – nothing comes close to making decisions under pressure in a game situation and nothing can simulate it.
It was super impressive to see him get back into his groove so quickly, as it's not just the pressure of performing for your team, but the pressure of expectation of previous experiences and performances and having the whole crowd watching your every move – because after all – you're Billy Slater! It takes a level, experienced head to stay focused on the task at hand, which he continued to build on as the game went on.
Lastly, as we saw last Thursday, the game is never over. The last 5 minutes had everyone out of their seat, with everything on the line and the pressure on players to hold on or push for the try – anything can happen and the Storm showed that last night taking the opportunity from Broncos (which had everyone in Aami Park out of our seats)!
I was amazed at the 16,000 in attendance, League is a sport that more Melbournian's need to get around. Despite last year's Grand Final result, we have the best team in the comp (slightly biased maybe), but if you are yet to get to Storm game, coming from myself – it is never too late to jump on board and join the excitement, history and passion that is the #PurplePride.