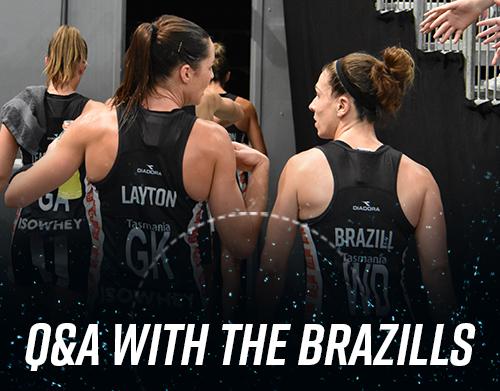 Wednesday was an exciting day for our very own Ash Brazill, as she was selected with pick No. 35 in the AFLW draft to the Collingwood Football Club!
One club, two teams and the first person to do so.
It was an exciting, nerve-racking day for our favourite wing defender – so I had a chat to Ash and her wife Brooke to see how it all went down.
Sharni Layton (SL): Ash, you weren't actually at the draft. So where were you when you found out you'd been drafted to the Pies?
Ash Brazill (AB): Brooke and I were up in Torquay. I was way too nervous to be at the draft itself, and I find being around water really calming.
If we were at home, I would have been so stressed out, but being down the beach gives me a bit of perspective and I'm able to clear my mind.
I was so nervous and I didn't know how I would react if my name didn't get called out. So my thinking was that if it went pear shaped, I could just go for a surf until the netball season came round!
SL: The draft started at 12pm and your name wasn't called for over an hour and a half. What was happening as you anxiously waited to hear your name?
AB: I went for a surf and then we set up Brooke's phone up on the grass area to watch!
We were both so nervous. I wasn't expecting to get picked up early, so I knew I would be waiting a little while. I had so much fear that I was going to miss out and when I wasn't called out at picks 20 & 21, we really started to worry!
Brooke Brazill (BB): I said to Ash, I've got a really bad feeling. And THEN out of NOWHERE, Ash's surfboard fell off the fence and HIT ME IN THE HEAD! Like, it nearly knocked me out! It was god's way of telling me to shut up! Because Nan is in heaven, I'm always like "that's nan telling you to shut up!"
SL: Thankfully – Nan was on your side! How did you last for the next 14 picks?
AB: Brooke was jumping in and out of the water because she couldn't stand to wait. When we started the draft, the phone was on full battery and then by the end of it, just before it was announced, we only had 5% battery left! Just to add to the stress!
We filmed our reactions on Instagram and I was SO EXCITED. Brooke got up and jumped around, and as you may have see, she kicked a can to celebrate! I mean, this is what you play sport for. You do it for this feeling, It's really, really cool.
BB: I was going nuts! Ash seemed so cool and collected! That was the most exciting sport moment that I've ever been a part of! It was really cool just being the two of us at the beach.
SL: We don't have a draft in netball, but you've always loved football. What's it been like going through the draft process?
AB: It's been a real learning curve for me. You don't realise what the AFL and AFLW draft hopefuls go through.
From such a young age, they nominate for the draft, and they don't get to choose what club they go to.
In netball, we are still really privileged. If you're lucky, you hope that a club wants you. But if a couple are after you, you still get to choose where you want to go.
In AFLW, it's just so different. Once you nominate – you're pretty much up for grabs.
I'm was in a pretty fortunate situation. It was unlikely that clubs would have picked me up because of my netball commitments, which put Collingwood in a really good position to draft me. But ANYTHING could have happened. I could have been picked up by another club and it might not have worked…
SL: What was it like knowing another club could have picked you up? 
AB: Yeah, it was pretty weird. My manager Alex, she has been great throughout this process. You know, I have been at camp (Fast 5) for a week, and then Tassie for a week (with Magpie's Netball), and at times like that you can't really be taking different phone calls about footy.
Alex has been great talking to different clubs and explaining the unqiue situation that I was in. I had full trust and faith in her and she was the first person to call me as soon as my name was called out.
SL: Whilst we talk now, it's an hour post the draft and I can still hear the shaking in your voice… how are you feeling?
AB: Mate, I am just so pumped and excited. I feel like the 10 year old me that just loved to play sport and compete.
SL: Women's sport continues to grow and it's an exciting time to be involved. What does this opportunity mean to you?
AB: What's so great about this situation is that I'm doing it at one club; my club – Collingwood. Both codes are making sacrifices to give me the opportunity to do both.
I'm so appreciative and grateful to the entire club. Everyone has got around me and supported me through this process. Under the one umbrella of the Collingwood Football Club, this was made possible.
SL: What advice do you have for any kids that want to try their hand at multiple sports?
AB: Growing up, I've always been told that I needed to choose a sport. I've always been critiqued by different coaches about this, so it's really nice that I can actually be me and not have someone tell me that I have to choose one sport over another.
If my story gives one kid the opportunity, or the inspiration, to give any sport a go, then this would have been all worth it.
For me, I know I can apply my netball skills to footy, and vice versa. For example, the way that I jump in netball, that's the way a footballer would jump.
I'm excited to challenge myself, my mind and my body as I take on this awesome opportunity to represent Collingwood in netball and AFLW.
SL: Agreed, I believe that's what makes you such a good netballer. It's a pleasure to watch you do your thing on the court and it's no wonder you're such a fan favourite! 
SL: Kristy brought you into the club for netball. How has she been through this process?
AB: KKB, as we call her, has been so supportive. If Kristy had said no from the start, I wouldn't be in this position.
Kristy believes in the individual, and she knows that by looking after the person, as well as the athlete, she can bring the best out of them.
Kristy, Jen (GM of Netball) Wayne (AFLW coach) and Matt (AFLW – Operations) and the entire club in general, have been so supportive. I'm so grateful to everyone.
SL: Brooke, one for you. Having seen all the stress that Ash has gone through, what does it mean to you for her to be picked up?
BB: I've gone through the highs and lows as well. You genuinely do. I am ecstatic for Ash, because football brings her a different kind of happiness.
Netball is still incredibly important, but football brings something different. I want her to excel and I know she is going to be amazing at this. And, why not?!
SL: You've already jumped into some of the AFLW training sessions. What has it been like?
AB: I've been taken aback by the camaraderie and the group dynamics of the girls. It's an environment that I cannot wait to jump into. Also, I'm allowed to tackle now, and that is also really exciting.
SL: And lastly, what are most looking forward to?
AB: I think it is just going to be so exciting. I think our AFLW team is heading in the right direction, and I couldn't be happier to be onboard for the ride.
The vision they have, I already see it. I'm buying in to the team and the values, and I'm really looking forward to working with them all. Bring on 2018!