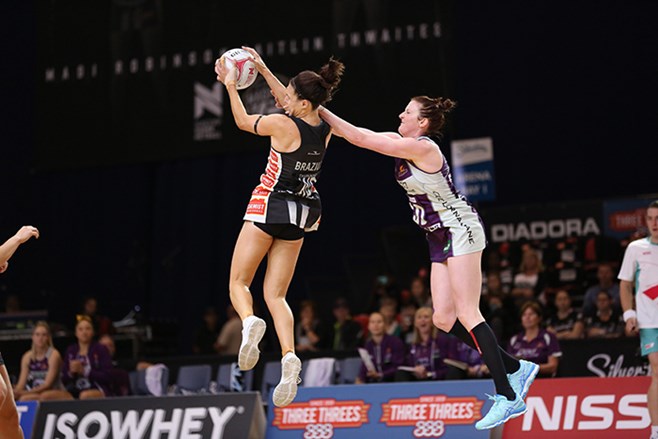 OUR GAME CHANGER
I'm going to let you in on a little secret.
Ash Brazill is a game changer.
She's my teammate. She's my friend. And most importantly, she's one humble and inspiring human being.
She's also the first athlete to play two elite sports, under the one sporting organisation.
So, I've decided to dedicate this blog to Braz and all of the hard work she's put in to get to this point.
As a netballer, everyone knows the type of player that she is.
She's fast. She's electric in the air. And she reads the play better than most.
Would those skills translate to footy? Well, we were soon to find out.
The AFLW is a short, but impactful competition.
There's only seven weeks to prove yourself, and for Ash, five of those were wiped out with injury.
But over the weekend, up in Brisbane, our cross-code athlete's dream finally came true.
Those outside the four walls of the Holden Centre could finally see her reap the rewards of her last eight months.
As you'd know, being an athlete – or in her case, a cross-code athlete – isn't just about rocking up and performing on game day.
There's so much more that goes on behind the scenes.
When Ash decided she wanted to play AFLW, there was a lot that had to be discussed, organised and compromised to make that dream a reality.
A lot of people would have thought it was too hard and that she should have just left it as that – a dream.
But Ash MADE it happen.
There were meetings left, right and centre between the two programs to see if it could all work.
There were timetables laid out regarding her two training schedules.
Which pre-season matches would she play for netball? When would she travel for AFLW?
How was it all going to work?
Both the netball and AFLW programs at Collingwood were fantastic in facilitating this.
But the credit must go to Ash, her professionalism and her resilience.
She would train and work tirelessly on the netball court with us, before heading straight out to the oval for footy training with the AFLW program.
The determination, the energy expended and the dedication committed are to be marvelled at.
And I thought playing one sport was hard.
If you want an insight into a day in the life of Ash Brazill over the past eight months, do yourself a favour and check out her piece with Unscriptd here.
As you'll see in that video, the harsh realities of sport would initially hold her back from living out her dream.
Injury hit and it couldn't have come at a worse time for my favourite wing defender… I mean half back flanker (sorry, I'm still adjusting).
A hamstring injury meant Braz would not run out onto Ikon Park in round one with her AFLW teammates.
A hamstring injury meant Braz would not run out onto the netball court and play a pre-season match with her Magpies Netball teammates in Hobart.
A hamstring injury meant Braz's dream of playing for two codes would temporarily be halted.
But as each of those realisations hit, Braz's infectious smile never wavered.
While she was disappointed, her charisma and her support of her teammates never dropped off.
Some say that's professionalism. I say, that's just Braz.
As the Collingwood AFLW team began their campaign, Braz sat in the stands with her teammates, cheering as loudly and as passionate as any other Collingwood fan.
When she couldn't travel for their interstate games, she was watching at home on television, decked out in Collingwood gear, screaming and cheering for her teammates from the couch.
And then last weekend, her day finally arrived.
Braz was able to don the black and white guernsey and step into a world where she has always belonged – out on the footy field.
She's a talent no matter what sport she plays, but to see her out on that oval with her AFLW teammates was just the best.
She played with so much confidence and most importantly, she played her role for her team.
She weaved, she evaded, she intercepted, and she looked as if she'd played all season long.
As athletes, and as people, we are challenged to push the limits, the boundaries and the status quo.
So, if Ash's AFLW debut didn't inspire you; I don't know what will.
Everyone is so proud of what Ash has achieved and I feel grateful to have been along for the ride, watching her flourish with every move.
If you're like me and you want to see this superstar in action, make sure you get down to the Holden Centre on Sunday afternoon to get around her and the rest of our AFLW team as they finish off their 2018 season against the Adelaide Crows.