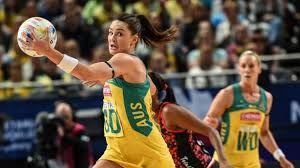 PATIENCE IS A VIRTUE
You know you're getting old when you've played in three different national netball leagues.
In 2004, I was picked up by the Melbourne Kestrels in the old Commonwealth Bank Trophy.
There were eight teams, with 16 players a side. Only 12 would be named each game, and similar to footy, the coach could drop or recall any of the listed players week in and week out.
We were paid $1,000 for the year, and $100 per week if we were named in the selected 12. As a 16-year-old rookie, being named in the side was a rarity, and realistically, the pay cheque should have gone to my mum who was my daily taxi from Bonbeach to the big city!
With very little compensation, some teams travelled with microwaves to help cut costs.
If a player seriously injured themselves, it was more than likely that their career was over, as there was no insurance in place and the cost was too much to return to the sport.
Players would often retire in their mid-twenties as life became too expensive. Work commitments took priority over training.
The only ones that stuck around were the likes of the legendary Liz Ellis and other Australian national team players who were still playing the sport just for the love of it.
In 2004/05, we banded together with the new Players Association, and along with Bill Shorten, John Paul Blandthorn and the biggest players in the league at the time, we worked together to improve the quality and sustainability of netball in the Australian sporting landscape.
To these people who fought for our sport, I bow down to you. We would not be where we are today without your strength, courage and leadership.
From those discussions and negotiations, the ANZ Championship League was born. A Trans-Tasman competition which had five Australian teams and five New Zealand ones.
Minimum wage increased to $10,000 a year and this eventually improved to $13,250 over the nine-year lifespan of the competition. There was salary cap of $250,000 which was shared amongst the 12 players in the team.
But what did this REALLY mean for our sport? Other than the fact that there was a little bit more money going into our bank accounts.
It meant we were semi-professional as athletes.
Some players could afford to work part time, which in turn meant we could afford to spend more time in the gym. Our bodies changed, and as we became stronger and more athletic – we pushed the game of netball to new heights.
The game became quicker, faster and more physical.
Our bodies and the way the game was played was synchronised with the growth of the sport. Injury prevention became a huge focus of our strength program, as did nutrition.
As for the growth of the game, it spoke for itself.
I would offer tickets to people and say, "If you're not impressed, I'll pay for your ticket."
Now, I hate to be over confident, but that was never the case.
New fans became in awe of the sport and its athletes, and a new appreciation was founded off the back of the development of the game.
And this progression continued to pay off in 2016, when JP Blandthorn and Bianca Chatfield rounded up the leaders of each team and began negotiating with Netball Australia once again.
13 years after my first players association meeting, Suncorp Super Netball was born.
This was another huge step forward, particularly with the return to free-to-air television thanks to channel 9, which is important for our viewers.
Players' minimum wage increased again, as did the salary cap for all SSN teams.
This new league enabled us to put more time into perfecting our craft.
Greater tactics and more analysis. Stronger injury prevention measures and stronger athletes.
Athletes could also prioritise their mental health, as they didn't have to stress about when the next pay cheque was going to arrive or whether to choose necessity (job) over passion (sport).
Now, we can have both.
As a society, women's sport and female athletes are still viewed in a different category to that of our male counterparts.
Fortunately for us netballers, our game isn't constantly compared to any other male sport, even though we have great men that have played our game.
For athletes in the AFLW, they are constantly compared to the AFL; a sport that has catered to professional, full-time athletes since the late 90s.
What if there was no AFL to compare it to and it was just AFLW in a league of its own. Would you see it differently? Would you have different expectations?
These girls are working 9-5 with nine-hours contracted during their training week. And, they are doing an amazing job with that balancing act.
The AFLW had a great leg up thanks to the platform provided by the AFL. It went straight to prime-time TV with more media coverage than any other women's sport, but these athletes aren't considered professional in the hours they train.
So for anyone throwing around criticism or judgement, cool your jets.
If the score line isn't as great as the AFL – who cares? Do people stop watching soccer because games are 1-0? No, it's about the contest.
The product of AFLW is far greater than what the final score of a game is.
It is giving the opportunity for even more females to get involved in sport which has a positive effect on mental and physical health.
It is giving everyone the opportunity to go out to the local grounds on a weekend and enjoy the sport and support the teams we love (Go Pies!).
Rivalries are being created and communities are banding together, even if it is to go up against one another. Shared experiences in the community is what we lack in this day and age.
I believe the AFLW will achieve in five years what netball has done in 13. So, give me a call in 2021 and let me know your thoughts then.