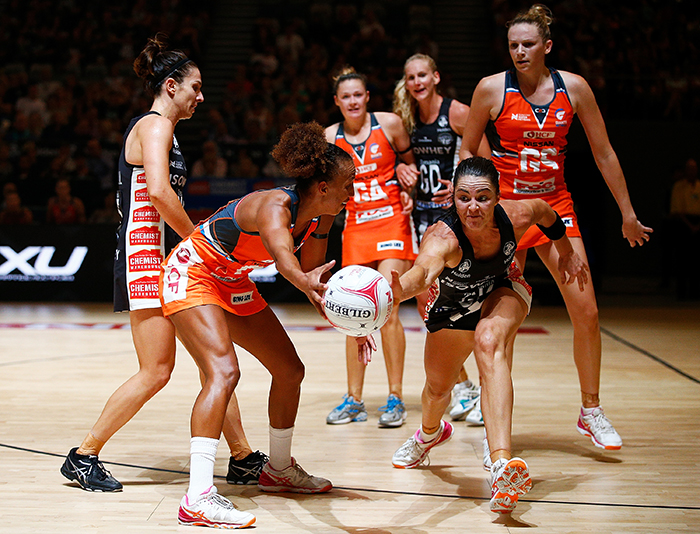 After a gruelling preseason and fourteen long weeks of competition, it's that time of year we've all been waiting for.
IT'S FINALS TIME!
The sweat. The tears. The pressure. The angst. I'm ready for it all.
If you thought the new Suncorp Super Netball league has been exciting thus far, trust me when I tell you the excitement is only just beginning.
It's hard to believe that four teams have already begun their post-season celebrations while we are out on the training track.
I could tell you how hard we've been working. But it won't mean anything if we don't come out and play our game on Saturday night.
The Melbourne Vixens – arguably the most under-estimated team coming into this new competition – started strong and finished even stronger. They have certainly earned the top spot on the table, followed closely by the more experienced Sunshine Coast Lightning.
The Lightning – thanks to two incredible interceptions by Laura Langman – snatched second spot from the Giants in the dying moments of last weekend's game, proving they are no easy team to beat.
For us, coming up against the Giants in our sudden death final, we can't underestimate this team. They have overcome multiple setbacks this season. They are strong-willed and strong-minded and for us, it's a case of beware of the wounded.
Losing their double chance for finals with three minutes left in their game last weekend; I have no doubt they are still hurting and will pour all of their passion and fight into this Saturday night.
We must be ready for the battle. We must get off to a strong start.
When people talk about our team – the Magpies – we know there's one question on their minds.
Have they seen the best of us yet?
I have no doubt there were people wondering pre-Easter whether we would even crack into the top four.
Well, we did and we're not done with yet.
And the most exciting part about finals is once you make that top four – it all starts again.
There's always going to be stories written, but it's important for us not to get caught up in those and to ensure we create your own narrative.
Sure, having a double chance is an advantage. But to be honest, every game this year has felt like a final, so why not play one more.
Everyone wants to know what does finals mean to an athlete? What do finals mean to me?
It's everything.
It's why we play.
The sweat and tears on the training track. The highs and lows throughout the season. As an athlete, you feel the legacy of your club on your shoulders.
As a supporter, you ride that rollercoaster with us. The wins, the losses, the injuries, the passion – it's all a part of the journey.
Multiply that emotion by 100, and that's what we feel out on the court.
You wear the dress with pride and relish the pressure.  As the saying goes – pressure is a privilege.
And to perform under pressure is one of the most rewarding parts of why we play.
It's what makes the high's so high. But on the flip side, if you fall short, the disappointment is hard to relinquish.
To lose in a final is one of the hardest challenges I've dealt with as an athlete. You know you are in with a chance, and to have that taken from you is absolutely gut wrenching.
There are no excuses in finals. There is nowhere to hide.
"We didn't perform our best" doesn't count, when you're out.
It's about who performs the best. In the moment. Under pressure. And quite frankly – who wants it more?
People think I'm passionate. Well, I bet you will see a lot more Sharni's out there over the next couple of weeks. Never before has it been this intense. It's time. And it's all on the line.
May the best team win.