FROM ONE GOALKEEPER TO ANOTHER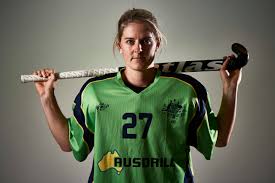 Representing Australia is one of my proudest sporting achievements, and having had the privilege of donning the GK bib on the international netball stage makes it that much sweeter.You see, goalkeepers play a unique position in sport.
Regardless of the code, the goalkeeper owns a unique role in that they often play a completely different role to any other player on their team.
The International Festival of Hockey is here in Melbourne and Rachel Lynch, the Australian Hockeyroos goalkeeper, will once again pull on the Green and Gold.
Lynch – an 11-year veteran of the Hockeyroos, as well as a leader in women's sport – will have the special experience of playing in front of her hometown crowd in Melbourne for the first time during this tournament.
Athlete's in the Olympic and Commonwealth Games domain sacrifice a lot when it comes to representing their country.
The Hockeyroos base themselves in Perth for most of the year, which is a huge commitment for the athletes, considering Hockey is still climbing the sporting food chain.
That's what makes tournaments like The International Festival of Hockey so special for our Hockeyroos, including a fellow Australian GK, Rachael Lynch.
And although the Hockeyroos fell to Netherlands (world number one) on Wednesday night, they'll look to bounce back again Japan on Saturday evening.
I sat down with Lynch – goalkeeper to goalkeeper – and asked her a few questions.
Sharni Layton (SL): Rach, how you feeling about the tournament?
Rachael Lynch (RL): I'm really pumped. We don't get the chance to play in Melbourne often, so this is a great chance to showcase what the Hockeyroos can do on the big stage.
SL: Who's coming along? What are you expecting from your hometown Victorian crowd?
RL: Mum, Nan and all the Victorian girls will be there! It will be great; we have six Victorians in the team, which is the most we've had for a while. We all live in Perth during the year, so it will be really good for us to all come back home and play in front of our friends and family.
We've also had a really good year and have been building hockey up in Victoria. We won our ASL this year, which is our state competition.
SL: Is this tournament a qualifier for next year's Commonwealth Games?
RL: No, we've already qualified but it's great practice in the lead-up to one of the pinnacles of international sport, the Commonwealth Games.
We have a really young team, with new staff and new players joining since the Olympics in Rio. It will be good for us to see how we go up against the best in the world.
SL: We all know goalkeepers (GK) are great, but they're made better with our teammates around them! What do the girls have to do to help you out during this tournament?
RL: We just need to stay really connected as a group. We're playing some really good teams, so we need to make the most of our opportunities down the other end and keep it really tight in defence across the entire tournament. Knowing the team plan is one thing, but being able to execute it is another. That's what we'll be looking to perfect as we head into next year.
SL: From one GK to another, when the ball's down the other end of the court/field, do you switch off?
RL: I wouldn't put it on the record if I did, but I definitely don't switch off. I try and call out to my other teammates and direct them from my point of view in the goals, so I'm still communicating with others down the court and trying keep my head in the game.
SL: Sounds familiar… 
SL: Good Luck for the tournament! I hope everyone gets out to see you guys play. Where can we keep an eye on the Hockeyroos?
RL: We have a tournament in Adelaide after this. Then we'll build towards Commonwealth Games in April on the Gold Coast, followed by the World Cup in July in London! It's a big year coming up for us and we can't wait to get started.
International Festival of Hockey
Wed 8th Nov: Aus V Netherlands
Thurs 9th Nov: Aus V NZ
Sat 11th Nov: Aus V Japan 5:00pm
Sun 12th Nov: Bronze Medal Match 1:15pm, 
Sun 12th Nov: Gold Medal Match 4:45pm
Rachael is an awesome ambassador for women in sport and has done a lot for the RU OK Day campaign. She is also a member of the Change the Game initiative, which is currently run by the Australian Sports Commission.