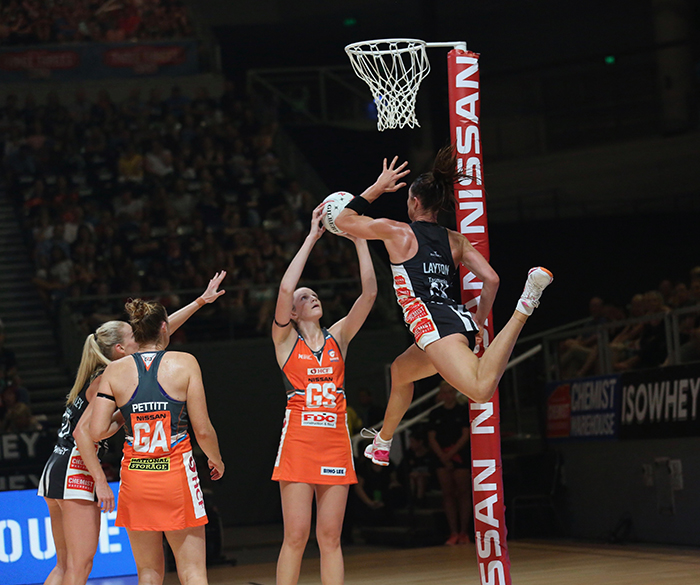 It's been a while since I've worn the dress.
It's been a while since I've been on court.
It's been a while since I've played a game of netball.
Eight months, if I'm being exact.
Between taking some time away from the game and nursing my most recent ankle injury, I've had a break from the sport.
But now, I feel ready for another big year.
Last week in Tasmania, I played my first game of netball since June.
I played three quarters against Wales and I loved being out on court with my teammates again.
I loved competing again.
And I loved being back in the dress.
There's a massive difference between getting ready for a game – even if it is a practice match – as compared to training.
It doesn't matter if it's the green or gold, the black or white, or whatever colour your weekend warrior outfit may be; there's a sense of pride, excitement and adrenaline that fills your mind and body when you get to play the sport you love.
For me, each of those sensations returned in Tasmania when I took to the court, back in my Magpies Netball uniform.
It felt as if I was getting ready for my first day of grade one at primary school again.
Prep can be a bit scary, but by grade one, you know what you're in for.
I was pretty nervous getting back on court, though. Knowing how you've played in the past; how you want to play on the day and how you probably will go after not playing for a good eight months (the longest break I've had in 14 years) can be pretty daunting.
I've done a lot of work away from the court during my time off. Now, I'm learning how to transfer those skills back onto the court and into my game.
I'm trying to stay composed whilst under pressure. I'm working on not getting too aggravated when the game doesn't unfold how I first imagined it would.
My work load will now increase as we lead into the season. I'll be working on all aspects of my game.
Some things to look out for:
I can still throw ✔
I can still catch ✔
I can still run ✔
And anything else at this stage is just a bonus!
All jokes aside, it was great to get back on court after watching my Magpie girls absolutely tear it up for the last five months.
And as we prepare for our campaign, I'll also continue to be inspired by the Australian Diamonds at the Commonwealth Games.
After Rav, April, Madi and Caitlin get back from the Gold Coast, we have a week or so together, and then BANG, it's straight into the Suncorp Super Netball 2.0.
Get excited – season 2018 it almost underway and I can't wait for it all to begin!
See you on the court