AUSTRALIA'S NETBALLERS HAVE ADDED ANOTHER INSTANT EPIC TO THEIR COLLECTION OF COMMONWEALTH GAMES CLASSICS WITH A LAST-GASP HEIST AGAINST ENGLAND.
The Diamonds had trailed all night and seemed on the brink of being thrust into a semi-final against archrival New Zealand, their conqueror of the past two Commonwealth Games finals.
But with scores locked with just 80 seconds left in their second pool game dominant English goal shooter Joanne Harten eventually missed a shot under the ring and Australia finally had their chance to snatch the game.
They methodically worked the ball down the court before ice-cool goal shooter Caitlin Bassett scored the goal with 15 seconds left that gave Australia a stunning one-goal win.
It was an extraordinary end to this tough contest, with English players repeatedly warned about their physical conduct.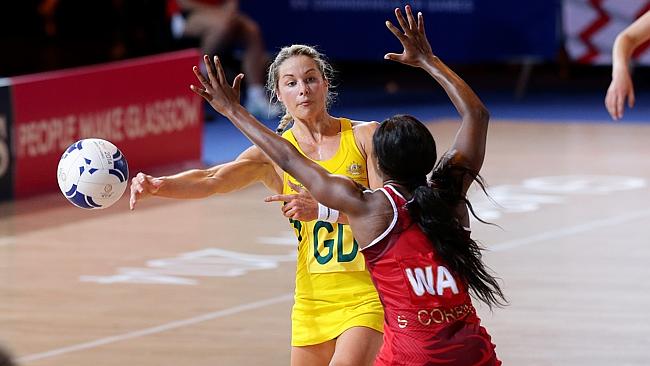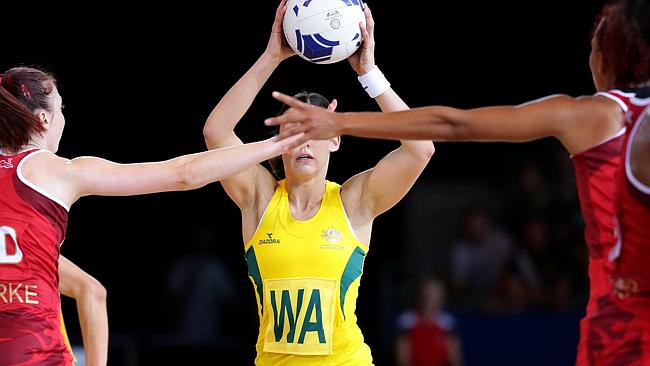 Australia had trailed by as many as six goals late in the third quarter, yet somehow found a way to save their tournament.
England continually buffeted and bruised an Australian side that was often left sprawling on the court, making good Australian defender Bianca Chatfield's promise that they were the toughest side in netball.
But while ANZ Championships co-MVP Harten was openly weeping at her last-minute error, Australia somehow dodged a bullet that will set up their Glasgow tournament.
Australian coach Lisa Alexander started Melbourne Vixens shooter Tegan Caldwell for the first time, but she lasted only a quarter as the experience of Nat Medhurst paid dividends.
The injection of rangy wing defender Sharni Layton was also crucial as she started to throw her weight around and combat the tough English attackers.
"I suppose it is what it all comes down to, that last minute of the game. You can lead the entire game, but our defenders were working overtime and we got a turnover," she said.
Laura Geitz and her teammates celebrate the win over England. Picture: Adam HeadSource: News Corp Australia
 "Obviously we want to finish top of the pool, but if we had to have played New Zealand (in the semi-final) we would have worked on that.
"I missed my first two shots, so it was nice to sink that (winning) one and there was no excuse. They are the ones I practice all the time. Every goal you take in this competition could be a winning or losing goal, and you have to nail them."
Defender Julie Corletto, resolute in defence as Australia's experience finally won over, knew the Diamonds had got out of jail.
"That was awesome. We knew it was going to be such a tough game, fighting it out in the last few seconds of the game," she said.
 "That is what the Commonwealth Games are all about, everyone putting their body on the line and it was shots like that (from Harten) that show we are so lucky to get over the line and we have to keep building each game.
"It is definitely a physical game for a non-contact sport and we felt like that was such a tough game for us."